About Little Pond
Founded by Bill and Bridget George in 1997, Little Pond is a cultural center and meeting place dedicated to inspiring people of all ages and walks of life to rekindle the spark of individual creativity and to holding space for the arts, spirituality, and immersion in the natural environment.
A Rich History of artists involved in Little Pond workshops and presentations includes such luminaries as Kevin Locke, pre-eminent player of the Northern Plains flute; Eiko & Koma, Macarthur Award winning dancers and choreographers; Jay O'Callahan, internationally acclaimed "genius" of storytelling; Mozell Benson, National Heritage Award Winning Quilter, and The Bach Choir of Bethlehem.
New Faces of Little Pond: In recent years our focus has been on building a community of artists and environmental sustainability advocates who have made long term commitments to Little Pond. Some of our current core collaborators are Anisa George, Rob Aptaker, Fresh Ground Pepper, Flux Theatre, Touchstone Theatre, Pennsylvania Shakespeare Festival, and the Baha'i Community of the Lehigh Valley. See Meet Our People further down on this page for more information on these frequent visitors and partners.
Flux Theatre Ensemble

Dan Rothenberg, Anisa George & daughter Ruya

Fresh Ground Pepper
Fill Thou, O God, our home with harmony and happiness, with laughter and delight, with radiant kindliness and overflowing joy, that in the union of our hearts thy love shall find a lodging place and Thou thyself shall make this home Thine own. O God, make Thou this home of ours a garden of affection, a ripening place for love where the hidden powers of our hearts may unfold, expand, and bear the fruits of an abiding joy. Unto Thee, O God, we dedicate this home. Cleanse it from all that is alien to Thee, that it may become fit for Thy acceptance and may be to friend and stranger, as to ourselves, a place of peace, a refuge from materialism, a herald of Thy Kingdom.
– George Townshend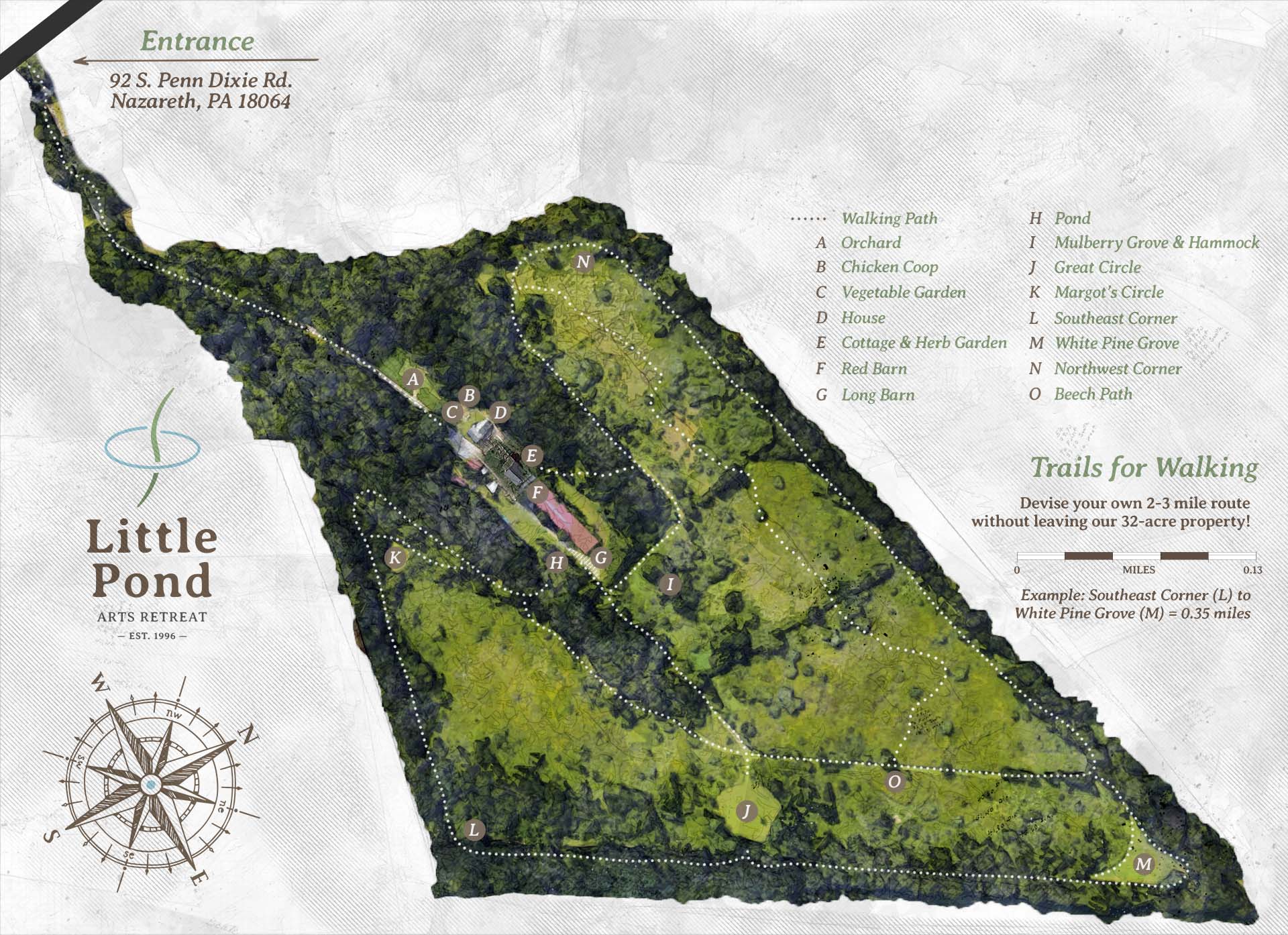 Meet Our People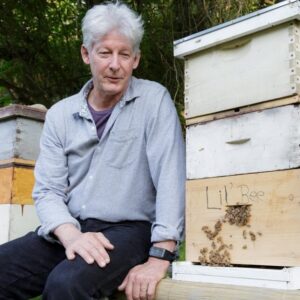 Bill George
Bill George received his B.A. in English Literature from Lehigh University and his M.F.A. in Acting/Directing from the Dallas Theatre Centre of Trinity University. He studied mime with Paul Curtis of The American Mime Theatre, co-founded the People's Theatre Company in 1977 and later co-founded Touchstone Theatre in 1981 where he was Producing Director until 1990. During a hiatus from Touchstone in 1996, Bill created Little Pond Arts Retreat in Nazareth, Pennsylvania with his wife Bridget–a retreat center dedicated to exploring the art of transcendence–and toured to Switzerland, Australia, New Zealand, Britain, and throughout Canada and the United States with his original dramas: The Kingfisher's Wing and The Marriage of Munirih Khanum, inspired by the Baha'i Faith. In 2003, Bill returned as a full-time Ensemble Member to Touchstone, where he has won numerous awards over the years–including a Fringe First at the Edinburgh Fringe Festival in Scotland, and a Pennsylvania Solo Theatre Arts Fellowship.
Bill's recent work for Touchstone Theatre has included a major role in the conception, development, and production of its Festival Unbound. Launched in 2019, this extraordinary festival built on Touchstone's acclaimed Steel Festival: The Art of an Industry (1998), which included the nationally recognized, community-based drama Steelbound, staged among the preserved remains of Bethlehem Steel, in which Bill played the steel worker Prometheus. Festival Unbound, now coming up to its fourth year, is a festival of arts and community dialogue around concerns of diversity, sustainability, youth leadership, and interconnectedness. It explores the questions: "What are the challenges ahead?", and "What are the values that will hold the community together as we face the task of shaping our future?" In his individual work, Bill is working on a piece about Odysseus, and a partnership with Anisa George in a devised work with the working title "The Last Play." Over the years, Bill's videography has documented Touchstone Theatre's 's work and created films for his own Kingfisher Theatre, Mock Turtle Marionette Theatre and The Bach Choir of Bethlehem. He has served as a panelist and adjudicator for the National Endowment for the Arts, the Maryland State Arts Council and the Barrymore Awards of Philadelphia, and currently serves on the board of Godfrey Daniels Coffee House and the Not-for-Profit Arts Council of the Lehigh Valley Chamber of Commerce.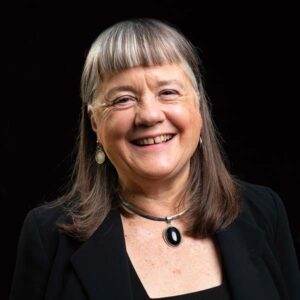 Bridget George
In July 2021, Bridget George retired after 24 years as the Executive Director of the Bach Choir of Bethlehem. She now enjoys having more time to devote to her family, her faith community, and Little Pond. Born and raised in England, Bridget earned a B.A. in Philosophy and Psychology from Oxford University, where she also sang and toured with Oxford's Schola Cantorum; and a Diploma in Education (Dip Ed.) from Goldsmith's College, London. Prior to her tenure with The Bach Choir, Bridget co-founded Touchstone Theatre with her husband Bill George and others. She worked for 18 years (1977 -1995) to help build this professional and community-based ensemble theatre. Her work as producing director (1990-95) included major collaborative projects such as Theatre of Creation Festival with Lehigh University and international ensembles inspired by the work of Jacques Lecoq; and a commissioned work with Teatro La Memoria of Santiago, Chile.
As Executive Director of The Bach Choir (1997-2021), Bridget led the administration of The Choir through five strategic plans and partnered with artistic director Greg Funfgeld in producing 24 concert seasons that included the Centennial Celebration (1998-2000); release of eight recordings on Dorian and Analekta labels; Lehigh Valley PBS Make a Joyful Noise—Emmy-award winning documentary on The Choir; internationally distributed film Mr. Bach Comes to Call; four commissioned works; and the expansion of The Choir's educational programs with annual Family Concerts, the Bach at Noon free concert series, and Bel Canto Youth Chorus. Bridget was responsible for planning and administering The Choir's United Kingdom tour (2003) including a BBC Proms concert in Royal Albert Hall. She helped expand The Choir's creative and media collaborations including A Joyful Noise for Touchstone's 2019 Festival Unbound and Benjamin Britten's Noah's Flood (2020) with Pennsylvania Youth Theatre and more than 100 young musicians. During the pandemic, she helped produce major virtual concerts and educational programs including the acclaimed 2020 Virtual Christmas Concert, part of which was filmed at Little Pond. She has served on panels for the National Endowment for the Arts, Pennsylvania Council on the Arts, and New Jersey State Council on the Arts.
Little Pond Core Collaborators
Anisa George is a Philly-based writer, director, and forest therapy guide. She focuses on the intersection of ecology, culture, and performance. Her written work can be found in the American Poetry Review, Iowa Review, Emergence Magazine and The Hopper. Anisa grew up performing with her parents' theater company, Touchstone Theatre, and is the founder of George & Co. Her plays have been seen at The Public Theater, Ice Factory Festival, Philadelphia International Festival, Opera Philadelphia, Fringe Arts, and the Edinburgh Fringe Festival. She has worked as a writer, director, and teacher with such organizations as Pig Iron, Lightning Rod Special, and Swarthmore College.
Rob Aptaker: For more than 45 years Rob has visited Native American people from many tribal nations. He has learned stories, tribal traditions, and songs, and continues to take part in ceremonies and celebrations including the sweat lodge ceremonies he facilitates at Little Pond. He has a Master's Degree in Education and has given hundreds of lively and engaging presentations in schools, libraries, and museums. His happy association with Little Pond goes back 20 years and includes his wedding to Irit Aptaker at the top of the hill here in 2003.
Flux Theatre Ensemble produces transformative theatre that explores and awakens the capacity for change. The ensemble-artist driven company believes that long-term collaboration and rigorous creative development can unite artists and audiences to build a creative home in New York. In the 15 years Flux has been producing theatre Off-Off Broadway, it has fully produced 28 plays, primarily New York and world premieres. and countless readings and development projects. The ensemble is made up of eleven Creative Partners composed of actors, directors, playwrights, and designers. Flux has held retreats and plays-in- progress readings at Little Pond for 16 years.
Fresh Ground Pepper is an arts company devoted to creators, the creative spirit, and the creative process. The Company furthers creativity through exploration, adventuration, curiosity, joy, and engagement in new and evolving systems. Fresh Ground Pepper holds space for artists to congregate and connect, honor new paces, and discover new paths of growth. The Company celebrates process in art, which leads to celebrating process in the world – because Process is Progress. Frech Ground Pepper has held creative retreats and workshops at Little Pond for 10 years.
Touchstone Theatre, founded in 1981, is a professional not-for-profit theatre dedicated to the creation of original work. At its center is a resident ensemble of theatre artists rooted in the local community of Bethlehem, the Greater Lehigh Valley of Pennsylvania, and the international community of Ensemble Theatres. The Ensemble tours and presents original and ensemble-created works, offers educational programs, and transforms audiences through community building projects. Touchstone has partnered with Little Pond in numerous projects including Festival Unbound and its MFA program with Moravian College.
Pennsylvania Shakespeare Festival is a professional Equity theatre featuring acclaimed actors from Broadway, television, and film and is summer home to over 200 artists from around the country at Desales University. The Linny Fowler WillPower Tour is the centerpiece of PSF's educational programming. WillPower's professional touring productions include post-performance talkbacks with the actors and workshops that give students the opportunity to explore the power of language. Little Pond hosts rehearsals for the production each year in a 3-week residency.
The Baha'i Community of the Lehigh Valley, like Baha'is around the world, is working with other like-minded people to help build a better world, one heart, one family, and one neighborhood at a time. At devotional gatherings held at Little Pond, we delight in sharing with people of all faiths, the joy of praising and remembering God in a spirit of unity and fellowship. Gatherings create an uplifting atmosphere of prayers, sacred readings, poetry, music, and conversation.
Sam George is a Birmingham, Alabama-based writer, musician, designer and developer and CEO of Solamar Agency. Sam grew up performing with his parents at Touchstone Theatre, is responsible for naming Little Pond and designing their original and current logo and is also the creative force behind Little Pond's website design. Sam and his family were also the original tenants of the Little Pond cottage and enjoyed helping with the design and decoration of this space.
Photos © Fresh Ground Pepper (Caterpillar on Oak Tree); Ron Yoshida (Bill George with Bees); Ryan Hulvat (Bridget George).