It is March 21, 2022, the first day of Spring, and we are excited to launch this new website celebrating our current vision for Little Pond. As we gathered pictures and worked with our son Sam George and his designer's eye, we could hardly believe how much has happened since the last time we worked on the website in 2012! In this news post, we focus on three exciting areas of rejuvenation: 1) Trails, flora, fauna and produce of Little Pond's 32 acres; 2) The strawbale cottage extension to our home, built by Artisinal Structures; and 3) Arts events bringing joy in spite of the pandemic, exemplified by The Bach Choir of Bethlehem singing in the Great CIrcle on top of the hill!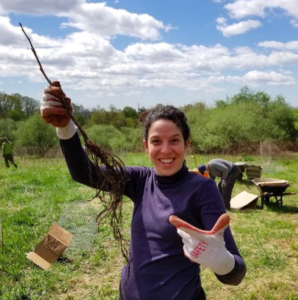 Forest and Food: Anisa George has taken the lead in envisioning Little Pond as a place for "re-wilding" — a place that encourages diversity of flora and fauna, and where advocates of environmental sustainability can meet and encourage each other in steps we can all take.
Pictured above, Anisa's artist friend Lindsey Hope Pearlman holds a bare root tree as she participates in a tree planting weekend. We created the Beech Path winding through meadows at the center of our kite-shaped property. Pictured below, our egg-laying chickens forage beneath a peach-laden tree. An orchard of fruit and nut trees is flourishing below our house next to the vegetable garden and chicken coop. Bees and their honey will be back in the orchard soon, in partnership with beekeeper Scott Edelman of Terra Fauna Farm.
All of this activity is enriching the Little Pond experience for participants in creative retreats, forest therapy walks, nature workshops, and arts events.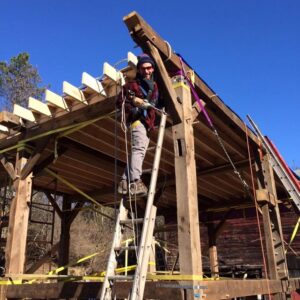 A Straw Bale Cottage Comes to Life: Little Pond Cottage, the first straw bale house in the Lehigh Valley, was built by Mark Southard and his team at Artisanal Structures as an extension to our house.
Beginning in 2015, it took several years to complete and was a major adventure for all of us. The result is a unique and brilliant work of art and environmentally conscious design that has become a much valued addition to the Long Barn of our Cultural Center. The Cottage enables family, friends, and artists facilitating retreats at Little Pond to stay in a beautiful and cozy setting in all weathers.
The timber frame of the cottage was made from the recycled lumber of an old barn in Hellertown. The walls are made of straw bales, a very effective natural form of insulation, covered with lime on the outside and clay on the inside. Sculptured scrap metal adds to the inventive stair rails and the other details that make this such a wondrous architectural accomplishment.
A Cathedral in the Woods: In Fall of 2020 when so many artists were discouraged by having to cancel rehearsals and events, we hosted The Bach Choir of Bethlehem in our Great Circle, which artistic director and conductor Greg Funfgeld called a "Cathedral in the Woods".
The singers came together for the first time since the beginning of the pandemic, and in the golden hour before twilight, video and audio engineers were present to capture four carols for The Choir's 2020 Virtual Christmas Concert.
As choir members wrote: "How amazing that experience recording at Little Pond was. I think I will be telling stories about that for the rest of my life! … Thank you for a most glorious afternoon of music making, fellowship, reconnection and love." And from Greg, " To be together again and singing again, to feel "normal" again, to see your beautiful unmasked counenances (even for a short time), was a gift to each of us that I will cherish for a long time.
Photos © Hub Willson, Ryan Hulvat, Flux Theatre Ensemble, Fresh Ground Pepper (FGP), Pennsylvania Shakespeare Festival (PSF), Mark and Chelsea Southard, Renee Demund Photography, and Little Pond.