Winter Solstice Blessings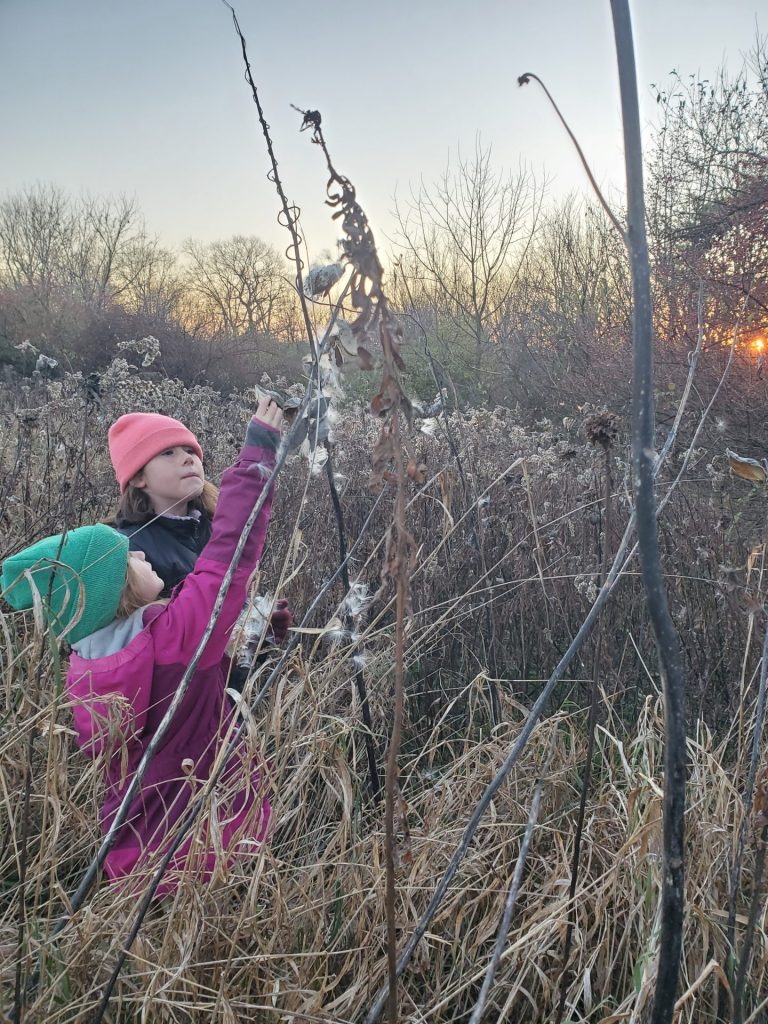 Looking back on the turning of the seasons – summer to fall to winter – Little Pond happenings etched in my memory include milkweed walks and a Memorial Service for Lakota legend Kevin Locke.
MILKWEED: This fall, theater artist and author Jan Cohen Cruz led a writing workshop out at Little Pond in connection with her "Remaking Home" series for Touchstone's Festival Unbound. She invited Rob Aptaker to take the participants for a walk on the land. Rob is the one who facilitates the sweat lodge ceremonies at Little Pond in harmony with Native American tradition, and he helped introduce us to the uses and healing properties of some of our native plants. I thought I already knew so much about milkweed, its bounty and necessity for the glorious Monarch Butterflies, its milky glue protection, the heady fragrance of its pink flowers, and the silky seeds my grandaughters Ruya and Emma love to blow and gather for the soft beds of winter gnome gardens. Now Rob taught us something new by very simply demonstrating how generations of native peoples have made rope from braiding the milkweed stems. As we pulled on the rope, we discovered its incredible strength. At our family Thanksgiving, Ruya and Emma's laughter and joy as they gathered and blew the milkweed seeds, were combined with yet more wonder at the earth and its gifts. I have a new perspective on what Native American author Robin Wall Kemmerer calls "an economy of abundance …the ethic of reciprocity that lies at the heart of the gift economy."
KEVIN LOCKE : On November 27, Baha'is from Philadelphia, Harrisburg and the Lehigh Valley held a memorial service for Kevin, who died on September 30 at the age of 68. In an intimate circle at Little Pond, we shared Lakota songs, Kevin's own transcendent Native American flute playing, and personal rememberances of Kevin, whose first name was Thokeya Inazin (First to Arise) in Lakota. He traveled to more than 90 countries to proclaim the oness of humanity and to promote the preservation of Indigenous traditions. Bill George had us step outside to look at the majestic Dawn Redwood trees by our little pond, and reminded us how Kevin had helped our children Sam and Anisa plant these two trees more than 25 years ago, and how he taught us to sing the "Walk in Beauty" song in Lakota. From Lakota and Anishinabe heritage, Kevin shared his calling through hoop dancing, flute, music recordings, and stroytelling for all ages, often with special attention to children.
Kevin was awarded a National Heritage Fellowship — the nation's highest honor in folk and traditional arts — and is honored for having helped preserve the Courtship flute songs of his Lakota people. A Baha'i for more than 40 years, he was a member of the National Spiritual Assembly, and for 15 years afterward served the Northern Plains area as an Auxiliary Board Member. The National Assembly wrote in a memorial message: "He will be lovingly remembered the world over for touching people's hearts – with his characteristic radiant smile, tremendous warmth, and delightful humor – as he shared the beauty of North American Indigenous culture, boldly and tirelessly conveying a message of the essential oneness of humanity to all his audiences."
Sally Eiler Cordova ended our rememberances with some of the spiritual and deeply touching "lunch box notes" that Kevin wrote for his own young daughter Patricia, and which his wife Ceylan was moved to share after discovering them saved in drawers and books, and tucked in pockets and little places everywhere. In one of her own recent posts Ceylan says: "As we enter this winter lodge, my heart is broken. I am reminded though that winter is the time to introspect, dream, and receive vision of the future; one to act on come Spring time with renewed spirit. So as you all go into your own hibernation, which is seemingly still, but is a stirred time to reflect and receive inspiration, what is it that you seek to purify?"